COMPANY PROFILE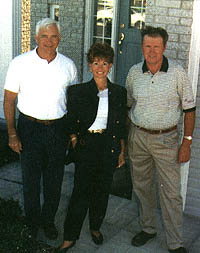 Welcome to our new website. Buying and constructing a home is a major decision. You want to have as much information as possible regarding who you are dealing with, what your builder can and can't do for you and what to expect during the various stages of construction. We are introducing both WDS Construction Ltd. And ourselves to you and hoping to answer some of the questions all buyers should be asking when they are considering building a home. You want to be as comfortable and as well educated as you can be in order  to know you are making the best choice for you and your family
David Smith, the President of WDS Construction was born and raised in Kitchener-Waterloo, is an engineering graduate from the University of Waterloo and has been involved with land development and construction for over 25 years. David has been a member of both the Ontario and K-W Home Builders Associations for many years, was elected to the Board of Directors and subsequently served as President in 1983 and 1985. WDS was formed in 1988 to be a small volume, "hands on", home building company. David's idea is to be involved in the construction of each house to ensure that the required care and quality are put into each WDS home.
Lynn Class, owner of L. Class Marketing & Consulting came on board in 1996 after having spent a number of years as sales manager with Cook Homes. Lynn covers off the sales side with the able assistance of two sales ladies. As well as getting involved in the home design process she is able to work directly with the purchasers to help them modify the plans to best suit their needs. Lynn also assists at the colour selection stage to help purchasers co-ordinate the look and feel they want in their new home.
Lynn is available from the initial contact to the final inspection and all the stages in between. When you come to view a WDS model home, you'll find very few if any upgrades in them, the price reflects the "what you see is what you get" sales mandate.
Ralph Van Dyke, our site super, came to Canada from Holland in 1950. Ralph, a carpenter by trade, went on to own and operate Van Dyke Construction for over 35 years. Ralph framed all of his own homes and it is the framing crews that he trained that are with WDS today. Ralph knows every facet of home construction and is on site and available to all the trades and more importantly to our home buyers should any questions arise during construction of the their home.
WDS builds approximately 20 homes per year and as a small volume builder know we can offer a more hands- on relationship-oriented building process. With the help of our trades and suppliers, we can offer an exciting and satisfying building experience from beginning to end.